build diary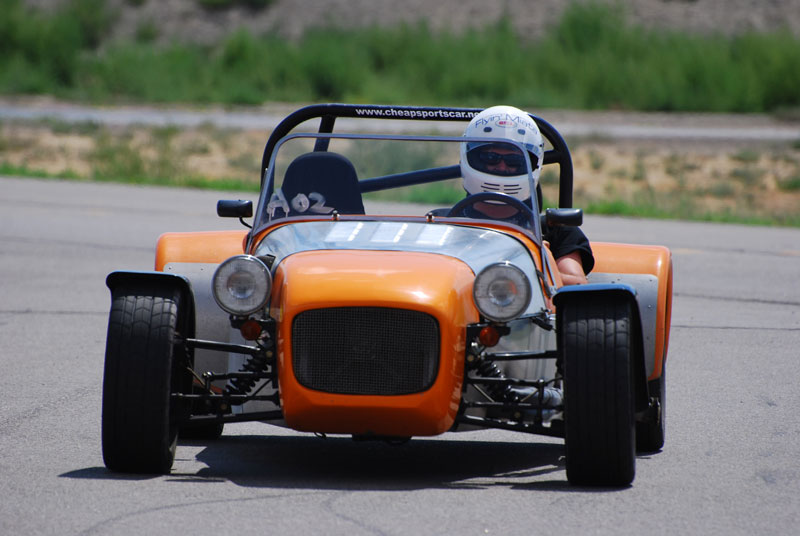 August 18, 2008: Time for the FM track day.
The Caterham pulled 305 hp at the wheels the day before. The Westfield was all tuned up with a lighter aeroscreen and methanol injection. And of course, the dark horse: Brandon. It wasn't going to be easy keeping ahead.
I missed the first timed session because I was making sure the track day was running smoothly. Ah, the price of being the organizer. But by the time the second one rolled around, I was at the front of the line. Everyone watching commented that I was driving hard - it looked as if I was on a mission. And I was! My goal wasn't just to break the track record, but to defend myself against everyone else who was doing the same. My time for that first session was 1:02.478. The old record? 1:02.471. So I was back on my old pace immediately. Bill was a bit further back and the Caterham wasn't in the hunt. Brandon was dealing with a broken axle but was going to have his car up and running soon.
The next session saw me get down to 1:02.3. So there's a new record then. Brandon didn't manage to put down a time and Bill was a still a little ways off.
I got a shock after the third session, though. I was slightly faster but still in the 1:02.3 range. Bill pulled out a 1:02.1 and Brandon was also down in the 1:02.7 range. As you can imagine, it was game on.
I pulled my windshield off while Brandon headed out with some of the slower groups to work on his line. Bill announced his intention to see a 1:01 on his timesheet. There was a lot of excitement in the pits. Brandon and I went out in the slow group just before our session to make sure the tires were partially up to temp - and it began.
I knew I would have to be more committed than ever, but without overdriving. It's a difficult balance. My first lap wasn't all that fast, the tires hadn't reached full temperature yet. On the second, I overcooked the entry into turn one and went around the corner in a big slide. Probably my best drift in the car - and definitely appreciated by the spectators - but slow. So it was all down to the third lap.
I nailed turn one, then got a quarter-second of full throttle in the transition into two. That's an area of the track where I'd found a little bit of time. The next couple of corners were smooth and quick, so it was all going well. I didn't take too many liberties through the chicane to keep things tidy. Down the back sweeper, I had the car in a four-wheel drift with a ridiculous slip angle, throttle pinned and a silent scream echoing around my head. It's a big commitment, but required to get a fast time. Brake hard, around the hairpin, then make sure I get a good drive off the slow corner on to the straight. It sure felt good.
And it was. When I pulled into the pits, a coworker came running over yelling "you did it!". My time was a 1:01.985, the fastest any car's gone around the track in either direction. Bill wasn't able to improve on his 1:02.103 and the Caterham was well behind. Brandon? Well, he managed a 1:01.988. That's 0.003 seconds behind me. At 70 mph, that translates to 4 inches. 4 INCHES. Wow, what a race.
The track record took some damage, that's for sure. Three cars beat the old mark, but I managed to beat it more than anyone else. So I stayed on top again. And I did it with driving, because the car hasn't changed since I set the record in 2006. But Brandon's a worry. He's still learning that car and there's lots of development left in it. I have a few things to do to to the Seven, but unless the upcoming ECU change unlocks some big horsepower I'm not liable to tear off big chunks of time.
There's another track day next weekend. I fully expect Brandon to wrest the record away from me. But he's not going to get it without a fight.
entry 1428 of 1439
<< |&nbsprandom |&nbsp>>
back to entry listing